A little about us…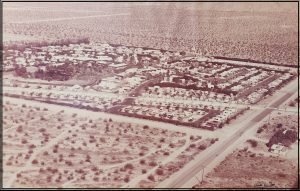 Original Sam's from 1984
Designed with the family in mind you can hike or wildlife watch with the kids or sit quietly by the lake. Built in 1971, Sam's Family Spa is a place to have fun, enjoy your family and relax in our hot mineral pools.
Our Mineral Hot Springs
Located on 40 acer of desert land with a scenic view of the mountains. We are proud to furnish you with 4 partially enclosed pools that have flow through
Natural Hot Mineral Water, from our 3 wells.
The first well is 300 feet deep and 105°.  The second is 280 feet deep and 127°.  The third well is 265 feet deep and is 142°.
We take the water from all 3 wells to create your Naturally Heated Mineral Spa Experience, after your enjoyment for the day we drain all of our pools into our holding pond where you can see fish and many varieties of bird enjoying the warm waters. From that pond we water all of the plants on the property through our irrigation system.
Mineral Content—Parts Per Million
Silica 16.0
Alum Oxide Trace
Calcium 51.3
Magnesium 6.8
Sodium 230.0
Sulfate 4.105
Chloride 120.5
Bicarbonate 69.0
Hydrogen Ionconc PH 8.2